The term "karaoke," which means "empty orchestra" in Japanese, is well-known in the West.
Those who have dreams of becoming rock stars, Broadway babes, or country music stars can head to a karaoke club and let their inner diva shine.
With 10 of your best friends or 100 people you haven't met, it's an absolute joy to be in the same room together. New York City has a wide variety of places where you can get involved with jams.
There's nothing better than a night out at a karaoke bar to lift one's spirits, no matter what the occasion. If you're looking to belt out the greatest hits of the 1980s with your closest pals in a private room, New York City's karaoke bars are the perfect place for you.
Here, we take a look at some of the top karaoke bars in the city, so be ready to belt out some tunes.
List of The best karaoke bars in NYC:
1. Gagopa Karaoke:
Koreatown
Best For: Big groups who like privacy and Korean BBQ
Address: 28 W 32nd Stthird floor, New York 10001
Web: gagopakaraoke.com
Phone: 212-967-5353
Opening hours:
Mon–Sat 6:30pm–4am; Sun 7pm–4am
This is one of K-best Town's karaoke establishments, with its shimmering long hallway decked out in Christmas lights. Gagopa, a seven-day-a-week karaoke club, gets filled quickly because it allows customers to bring their own alcohol. (Don't worry, there's also a beer and wine selection available.)
With thousands of neon lights and seemingly infinite Korean BBQ restaurants, Midtown's Koreatown is New York's Karaoke Central Nervous System.
Private rooms for up to a dozen people are available on the second and third floors, and you may bring your own alcohol or purchase wine and Sake on site. The staff has seen (and heard) it all and is ready to assist you in any way possible. As they're open till 4am, it can become a little sloppy. See if you can hang in there until the end. Several irritated Gagopa staff will force you out the door as your prize.
2. Insa
Korean Restaurants
Gowanus
Best For: Dinner and a "Koreatown" experience for those who want a more intimate setting.
Price:
$16–30
Address: 328 Douglass St Brooklyn 11217
Web: http://insabrooklyn.com/
Phone: 718-855-2620
Opening hours:
Daily 5pm-2am
As far as the outside world goes, Insa appears to be a typical Korean BBQ restaurant with no hint of karaoke fun to be seen at all. For Brooklynites who are too afraid (or tired) to cross the Brooklyn Bridge into "The City," Insa is a scaled-down, alternate "Koreatown" karaoke experience.
Those who want to sing after getting their buzz on but don't want to drive to K-Town can enjoy this spacious restaurant-karaoke combo. Indulge in one of the bar's signature cocktails to go along with your bibimbap, pork belly and short-rib dinner (vodka, vermouth, lychee liqueur.) When you're waiting for a room, use the KJ Touch R app to see whether they have your favorite song…then get excited to belt it out.
In addition to a large dining room and bar, there are a few elegant rooms perfect for small gatherings. If you cram ten people into one, you'll feel like a circus inside a Volkswagen Beetle, but the atmosphere is the same as it would be in Koreatown. In addition, Scorpion Bowls are available. Make sure you spread the word.
It's up to date. It glides effortlessly. It's also a great remedy for post-dinner bloating.
3. Heaven or Las Vegas
Bar in Brooklyn/Bushwick
Best For: nostalgic-feeling karaoke bar named after a hit by Scottish alt-rock band Cocteau Twins.
Address: 4 Irving Avenue Brooklyn, NY 11237
Phone: (917) 727-4415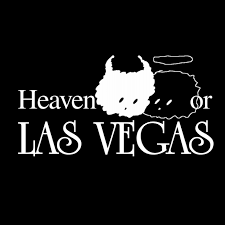 Heaven or Las Vegas is owned by the same individuals who own Mood Ring, and like that bar, it's a terrific place to dance till 4am. Three rooms connect to form a single large dance floor, complete with a DJ booth and smoke machine. For those of you who don't know what "Early-'90s Slumber Party Rave" means, this club has a lot of stuffed animals hanging from the ceiling, including a Pikachu over the bar. Just be sure to arrive after 10pm if you don't want to be the only one there.
Bushwick's famed Mood Ring is getting a reimagined karaoke bar titled after a Cocteau Twins hit song, courtesy of the same people behind it. Colorful is an understatement; there are LED smiling faces behind the bar and a giant TV for karaoke in the centre of the main bar's decor. Once you've won over the crowd with your rendition of Whitney Houston's "I Will Always Love You," you can move on to the other two rooms. Karaoke is held every Sunday through Wednesday from 7pm to 2am, and on the weekends, this new club becomes a full-fledged dance hall.
4. Iggy's Karaoke Sports Lounge
Bars, Beer bars
Lenox Hill
Address: 1452 Second Ave, New York 10021
Web: http://iggysnewyork.com/
Phone: 646-724-5632
price 1 of 4
Opening hours:
Daily 11:30am–4am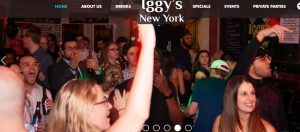 Karaoke is also a big draw at this unassuming Irish tavern with a 100-foot-long bar on Second Avenue. It's no secret that Iggy's is a hot spot for karaoke because of their incredible happy hour deals (think $5 pints and $9 boiilermakers).
One of the most popular bars in the area, it's open seven days a week, year-round. Direct TV and Time Warner sports games are shown on 14 flat-screen TVs and a large projector screen in the back. It's a lot more than a karaoke bar or a lounge. The Sports are on all night long on the TVs! Let go of your fears and enjoy the rest of it!
Dance floor/mingling area quickly fills their central space. To put it another way, "Get your Groove on." If you're a Karaoke fan, you can take the stage at the back of the room with our DJ and belt out your favorite tunes. Events and gatherings are also included.
5. Lion's Roar Karaoke
Bars
Williamsburg
Address: 187 Meserole St # 1, Brooklyn 11206
Web: https://www.lionsroarentertainment.com/
Phone: (718) 417-6955
Group Rates :
Up to 10 Lions – $135/ hr
11-15 Lions – $150 / hr
16-20 Lions – $175 / hr
Opening hours:
Monday 6PM – 12AM
Tuesday 6PM – 12AM
Wednesday 6PM – 12AM
Thursday 6PM – 12Am
Friday 6PM – 4:30 AM
Saturday 6PM – 4:30 AM
Sunday 6PM – 12AM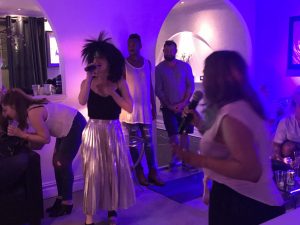 With ease, convenience, and stunning style, plan your private karaoke house party. In the LION'S ROAR KARAOKE HOUSE Kitchen, keep your meals HOT and your drinks COLD!!
LION'S ROAR ENTERTAINMENT is owned by Brooklyn-based husband and wife performing artists ROBERTO AND ZAIDA WILLIAMS. Your one-stop shop for all of your home party, live performance, and event planning needs!
LION'S ROAR ENTERTAINMENT was founded by Roberto and Zaida Williams in November of 2003. This dynamic husband and wife duo have most recently opened LION'S ROAR KARAOKE HOUSE, a stunning karaoke house party service available to anyone for their special private event needs! Constantly evolving the company for the changing needs of contemporary audiences, performing art students, and partygoers, this dynamic husband and wife duo have most recently opened LION'S ROAR KARAOKE HOUSE, a stunning karaoke house party service available to anyone for their special private event
When screaming out Mariah Carey, you sometimes just want to be surrounded by your friends, not performing for a bar full of strangers. If this describes you, gather your friends and travel to Roberto Williams and Zaida Soler Williams' commercially zoned Williamsburg townhouse, which also serves as the Lion's Roar Karaoke Lounge. The living room features a fantastic karaoke setup that makes you feel like you're in your own apartment, sans the need to vacuum popcorn off the floor the next day.
6. Maru
Bars, Lounges
Midtown West
price: Average drink: $10. AmEx, MC, V
Address: 11 W 32nd St New York 10001
Web: https://www.marukaraokelounge.com/
Phone: 212-273-3413
Opening hours:
Mon–Wed, Sun 6pm–2am; Thu 6pm–3am; Fri, Sat 6pm–4am
Maru Karaoke Lounge, located in the center of Koreatown, begins the evening as an elegant lounge before unveiling a lavish nightlife experience. The bi-level restaurant, which opened in 2004, has an excellent interior and stunning aesthetic, which contributes to the inviting atmosphere for all guests.
Maru Karaoke Lounge is a true representation of New York City nightlife.
This swanky K-Town hangout is practically impossible to locate. But once you've found it, take the freight elevator to the third story, where you'll discover a beautiful bi-level area with soaring ceilings and sleek banquettes in the tunnel-like bar space. You can choose from a variety of soundproof karaoke rooms with flat-screen TVs that can accommodate any group size. Back at the bar, bartenders mix up premium drinks like lychee martinis and mojitos, while Korean sojus come in luscious varieties like peach and lychee.
7. Winnie's
Bars, Dive bars
Chinatown
Price: Average drink: $6. Cash only
Address: 58 E Broadway 2nd FL New York 10002
Phone: 212-732-2384
Opening hours:
Noon–4am
This noisy karaoke club and old-school Chinatown hole stands over the bustling stretch of East Broadway, attracting both Chinatown residents and trendy visitors looking to show off their vocal prowess. Big red booths, their famous punch, and chandeliers built from old karaoke laserdiscs can all be seen within the pub.
Winnie's, an old-school hole and noisy karaoke bar in the shadow of the Tombs, has been luring Chinatown residents and fashionable visitors for alcoholic singalongs for three decades (otherwise known as the Manhattan Detention Complex). When it closed in 2015, it became yet another golden city victim. Winnie's was revived on East Broadway on Valentine's Day this year, in an improbable revival.
Winnie, the owner of Winnie's Bar, is here to meet you! Swipe right to hear about the history of this legendary tavern and how she's preserving it in these tough times.
8. Sing Sing
Bars, Lounges
East Village
Address: 9 St. Marks Pl NY 10009
Phone: 212-387-7800
Web: http://karaokesingsing.com/
Opening hours:
Daily 1pm–4am
FIND YOUR SONGS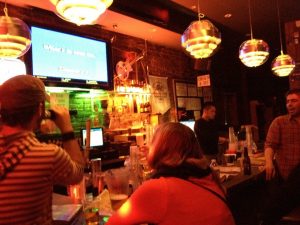 There is a karaoke bar and 15 private rooms available. They have English songs as well as songs in a variety of other languages.
Patrons of this East Village sing-along bar can choose between performing in the open bar lounge for $2 or renting out one of the private rooms, which cost $8 per person per hour. There are two locations: one in the East Village and the other in the West Village. Multiple microphones, a large flat-screen television, and saran-wrapped songbooks can be found within the rooms.
Despite the fact that Sing Sing offers private rooms, we believe that the best option here is the public bar area, which is, in our opinion, the best venue in the city to disgrace yourself while belting out '80s favorites in front of friendly, inebriated people.
9. Planet Rose
Bars, Lounges
East Village
Price : Average drink: $6.
Address: 219 Ave A New York 10009
Phone: 212-353-9500
Web: http://planetrosenyc.com/
Opening hours:
Mon–Wed 8pm–2am; Thu 8pm–4am; Fri, Sat 7pm–4am; Sun 5pm–2am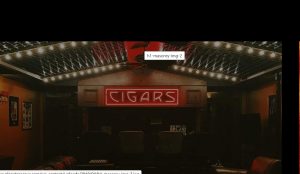 Don't forget to dress in white so that you stand out against the blacklight and zebra print couches in this divey establishment. Bartenders at the neon-lit establishment are courteous and willing to serve you a beverage for as little as $8 per glass. This location is ideal for persons who are afraid of public speaking: Wireless microphones allow you to perform from any location you want.
There is also a somewhat different take on the bar's iconic Planet Rose cocktail from each of the bartenders, but they are all mixed to a high degree of strength. Many customers are drawn to the cliquey singles scene that is taking place on the zebra-striped wraparound sofas. If that's not your thing, the evening karaoke is available for no charge.
10. Up Stairs
Chinatown
Best For: People who are seeking for something unusual to do.
price: 2 of 4
Address: 59 Canal St New York 10002
Phone:917-608-6968
Song You Should Definitely Sing There
After supper at Kiki's or Scarr's Pizza in Chinatown, head to Up Stairs for a nightcap. This dive is up a tight set of stairs (surprise), and it's a good alternative for those on a budget because there's no need to pay for a separate room. Make friends with the normally friendly throng and have a good time while drinking Yuengling on tap.
You'll know you've found a slice of strange NYC heaven after you climb the slightly shady-looking stairs and emerge on the other side of the Hello Kitty-covered door. There's a good mix of tried-and-true Western anthems and extremely popular Cantonese pop singles. The atmosphere is scuba-like. The decorations are a little strange. And on the screen's background, B-roll of bored-looking Chinese models runs indefinitely. It's almost perfect.